---
MOZARTS
---
About the Mozarts
---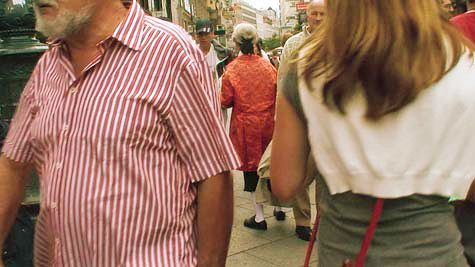 ---
---
Adel was born in Serbia in 1985. He's been in Vienna for three and a half years. He studies. After graduation, he'd like to leave Austria. He's got no plans to go back to Serbia. He speaks Serbo-Croatian, German, English, Arabic and a bit of Hungarian. He listens to any music except heavy metal. He likes to listen to Queen, especially the song 'The Show Must Go On'. His favourite Serbian song is '9000 metara' by Zeljko Samardzic.
Mila studies in Vienna. She thinks the year and place of birth don't reveal much about the person. She is from Eastern Europe. Apart from her mother tongue, she speaks English, German, Italian and Spanish. She likes to listen to jazz, rock and house music. Her favourite song is 'Need You Tonight' by INXS.
Nizar was born in Kosovo in 1979. He studies English and Spanish Philology in Vienna. He speaks Albanian, Serbo-Croatian, Bulgarian, English, German, Italian and Spanish. He listens to jazz. He likes 'Merre Lehte' in the version of Fanfara Tirana. The songs dearest to him are: 'Ne me quitte pas' by Jacques Brel, 'Torna a Surriento' by Giuni Russo, 'Temptation' by Diana Krall and 'Evidence' by Faith No More.
Tzveta was born in Bulgaria in 1976. She's been living in Vienna for the past 10 years. The primary reason for her arrival in Vienna was her studies. She's married and is the mother of a two-year-old boy named Petar. She speaks Bulgarian, French, English, German and Spanish. She likes to listen to Sade and Depeche Mode. Her favourite Bulgarian song is 'Kukla' by Atlas.
Stratzimir was born in Bulgaria in 1976. He's lived in Vienna since 1998. He's just got his degree in International Economics. Apart from Bulgarian, he speaks English, German, Russian, and can also communicate in Spanish and Italian. He chooses music according to his mood. He listens to heavy metal, hard rock, jazz, electronic music, drum'n'bass and classical music. His favourite song is 'Smoke on the Water' by Deep Purple.
---
Images below:
MOZARTS, 2008-2009, video stills